Homily for the Funeral Mass of Very Rev. Seamus Carter R.I.P. on 11th February, 2013.
On 19th June 1955 four young men were ordained for the Priesthood for our Archdiocese, Enda McDonagh, James Kelly, Michael Comer and Seamus Carter.
Seamus was a member of a family of 14, 8 girls and 6 boys.  His father died two years before his ordination.  His first appointment took him to Carna for 9 years.  During this time he helped to rear younger members of the family who lived with him in Carna and went to the local school.  A very focused and determined man, he immersed himself totally in the culture of the Gaeltacht.  To this day he is remembered with great affection in that parish.  He featured in a recent article recording things that happened 50 years ago relating his great interest in sailing and the fact that he won a special prized race with his boat.
In 1964 he went on loan to Huddersfield in England for four years.  Many people from Connemara had emigrated to that area and Fr. Seamus ministered to them in their native tongue and enabled them to integrate into their new location.
On returning to our diocese he was appointed to Cill Chiaráin, also in the parish of Carna.    The following year he moved to Cortoon in the Cathedral parish of Tuam.  He had a keen sense of what was need in the area.  Once he embarked on a project there was no going back.  He started a very important rural water scheme and coped with any opposition he encountered as he brought the scheme to a successful conclusion.
Archbishop Cunnane had a great interest in promoting catechetics.  Fr. Seamus was one of the diocesan advisors entrusted with responsibility in this area.  He fulfilled his role in this respect with great diligence and dedication.  His visits to the school were very supportive of the teachers, while the children enjoyed his wide-ranging interests in boating, bee-keeping and sport in general.
In 1980 he moved to Glenisland and became Parish Priest of Kilmaine 9 years later.  It was during his latter years in Kilmaine he acknowledged that his memory was deteriorating.   He considered that if he was relieved of the burden of administration he could still provide a priestly service.  He went as curate to The Neale but after two years he retired.
Today we give back to God a precious gift that He has given to us.  Because the gift is so precious our hearts are torn.  We gather in God's presence to celebrate that gift.  There is something of a paradox here, both sadness and celebration.  The Gospel, which was read today speaks to us on two levels.  It reproduces the emotion in our hearts and it enforces on our minds an all-important message of Jesus.  We can identify with the reaction of Martha in St. John's Gospel.  We can ask why Fr. Seamus was deprived of the faculties of memory at a relatively young age.  There is no answer that will satisfy the philosopher.   In the face of innocent suffering human wisdom is bankrupt.  Peace will come, not from logic but from trust – trust that stems from love, love of a God that so loved us that he gave us his only son.  Peace will come when, as with Job in the Old Testament, God shows his face to us – not for us to experience explanation, but only to experience love.  Secondly, you will notice that Jesus was not satisfied with Martha's act of faith in today's gospel – that her brother Lazarus would rise again on the last day.  Jesus insists that "whoever lives and believes in me will never die".  For Seamus every infirmity of our fragile humanity has disappeared.  His memory which deteriorated and on which we depend so much can now rejoice in the eternal presence of a loving God.  There is no need for memory, just an eternal rejoicing.
The last few years have been difficult, not so much for Seamus but for the family and for those who visited him.  We place great store on memory, on people we have met, on placed we have visited, on games we have seen, books we have read or films we have enjoyed.  We depend on memory so much for communication.  Yet the Carter family continued to visit when there was no reaction, with no communication, no words from Seamus.  They journeyed that long lonely road patiently and with great understanding as they continued to visit.
It is significant that we lay Seamus to rest on this the Feast of Our Lady of Lourdes.  On pilgrimage to Lourdes we get a different insight into humanity and our relationship with God.  There we see the way in which the sick and invalids are welcomed and cared for.  It provides some insight into the welcome that awaited Fr. Seamus.  He spent his priesthood serving God and the people of God.  There was no compromise, no resorting to a cheap popularity.  His ordination promises determined his ministry.  On Ordination Day Fr. Seamus promised to serve God and God's people and that he has done in all the places in which he has ministered.  A very straight man with a keen sense of justice and fair play. He carried his cross faithfully to the end and now he receives his reward.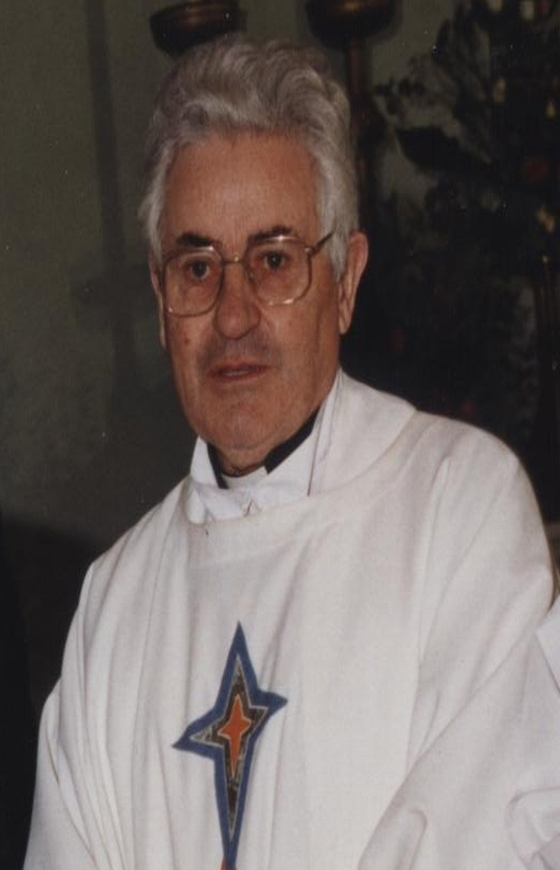 Related Images: