Archdiocese of Tuam
World Youth Day 2008
Sydney, Australia
A talk delivered by Kate Costello, Abbeyknockmoy on the occasion of the annual St. Bermard's Day parish pilgrimage to Knockroe
Firstly I would like to begin by thanking Fr.O'Brien for inviting me to speak here today. This is a wonderful opportunity to share my pilgrimage experience with you all gathered here and to tell as many people as possible the story of my life changing journey to Australia, with the Tuam Diocese for WYD 2008. I would like to give you a glimpse of what an uplifting trip this youth pilgrimage was you gather here on your pilgrimage to Knockroe. All I have done since I have returned home is talk about the Group everyday, reminisce and look back with a smile, laugh at the memories and constantly try to relive every minute. Overall for me the trip was so much more than I could have ever anticipated and it most definitely surpassed all my expectations.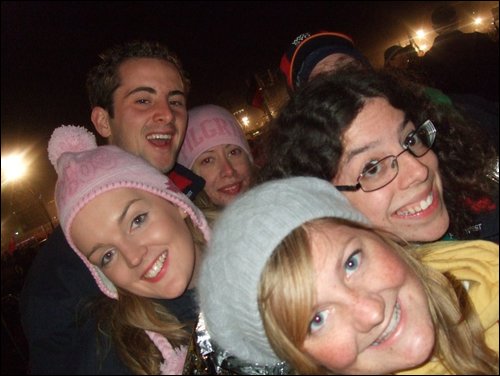 It all began two years ago one regular Sunday morning at Mass in Brooklodge. All that was on my mind at the time was the pending Leaving Cert. However something caught me eye in the mass leaflet. Fr.Tod from Tuam had inserted a notice regarding the organisation of a group to attend World Youth Day in 2008 and I decided to get in contact with him. Little did I know at the time that this was to be the beginning of an amazing adventure, of a trip that I hope has shaped me as a person forever. Day's out, deposits, fundraising and flights all followed as part of our preparation. The organised get together's were sometimes daunting as I didn't recognise a face in the room. However after a couple of visits to Castlebar, Ballintubber, Claremorris and Tuam I began to realise that I couldn't have found or meet a more open or friendly group to travel with.
Quicker than I had imagined the day had arrived. My bags were packed and off I set to Tuam Cathedral for the departure Mass. Farewell wishes from the bishop and goodbye kisses from the family and off we went. The  journey from Dublin to Brisbane gave everyone the chance to put a name to each of the 36 faces. The nervous and anxious tension was quickly dismissed by an excited and apprehensive buzz that engulfed the group.
First stop was the seaside town of Mallolooba . The first few days were spent, recovering from the jetlag, sight seeing and trips to the beach. From petting koalas to swimming in the Pacific ,we as a group  began to gell together and to form a close knit unit. However  the religious element of the pilgrimage was never far from our minds . While enjoying the Sun Sea and sand we also shared daily mass together in various, unusual locations. With kayaks and wetsuits surrounding us we celebrated mass and  sang Cead mile a failte romaht with pride. I began to enjoy the relaxed and youthful approach to Religion these 5 young priests from the Tuam Diocese had.
Next stop was the parish of Southport were we were to spend our Days in the diocese. Firstly the Tuam group had to register in the Australian Catholic University, along with hundreds of other people between the age of 18 and 30 from Hong Kong to Sweden and Italy to California. From tango dancing to  game of soccer, one didn't know what to expect next. That evening we were separated into houses in the parish's .Marie Coen of Belcare and I ended up staying with the caring and lovable elderly lady called Agnes Casey. We got to see how Australian Catholics lived their lives by visiting an old folk's home and sharing mass with the local people. Every day I was learning more, meeting new people and seeing different things. I was being challenged in so many new ways. We were all overwhelmed by how eager and willing the Australian people were to welcome us into their homes and share their time with us. This to me was the perfect example of how Christians all over the world extended their hand in generosity to welcome others of similar beliefs. On one of the days we attended an event in Brisbane called the Heart of the city. The entire city come to a stand still as thousands of pilgrims walked through the streets, singing songs with their national flags flying high. The streets of the city were brought to life.  The Pilgrim walk through the city was followed by a fiesta of faith where fun and festivities took place al day long as the sun shone down upon us.
Next it was farewell to out host families and off  we set to the airport to fly to Sydney for the second leg of our adventure. As we made our way to our assigned Parish of Bondi we ended up spending the night in the Olympic village. Roughing it together meant that a great sense of camaraderie and community was present. Next we moved onto the Parish of St. Patrick's in Bondi where we were staying in the local catholic school.  We spent our first evening in the beautiful Sydney visiting the Opera house, the Harbour Bridge and Manly Island. On one of the evenings we even got to see the Australian Youth Orchestra perform in the Opera house, I had to pinch myself to convince myself that I was really there.
Each morning before the main WYD events we attended a session of Catechesis. Various Bishops from around the world spoke to us on the importance of Young people in the church and their significance in bringing the church forward into the 21st century. We were constantly reminded of how extraordinary each and every one of us is. The message that we received was that we as young people have a shared responsibility to keep the church alive for the future generations.
For the following week we attended the WYD events that took place in various locations around Sydney. Along with 500,000 others I celebrated mass, welcomed the pope, and watched the Stations of the Cross. Our first WYD event was the opening mass. This for me was one of the most memorable events. The enormity of the event was really inconceivable. Celebrating mass and receiving communion along with 500,000 is definitely something I shall never forget. Hundreds of thousands of young people joined together in song and prayer. As I looked around me all I could see were smiling faces. We as young people were delighted to be part of something so unique. The arrival of the Pope was a very surreal experience. As we waited for Pope Benedict to arrive it was clear to see how excited everyone was. Young people were screaming in delight and the crowd were mesmerised as he drove by. This electric energy ,to me, was a pure indication that the Catholic faith is still very much alive and well in young people today.
The end of the week had sadly arrived and it was now time for the main WYD event to take place. This involved camping overnight at Ran wick racecourse after the pilgrim walk over the Harbour Bridge. That evening we had a candle light vigil followed by overnight outdoor camping and then morning mass within the Pope. The pope message was that the we should welcome Jesus into our hearts and our lives and that he is always there for us in our hour of need. He assured us that we must be hopeful of the future of the Church and that it was evident that God was thriving in each of out hearts.
Our adventure had come to and end and the last few days were spent in recovery, shopping for gifts and enjoying the last few days of sun and sand at bondi beach. We then made the long trek back to the west of Ireland.
I was overwhelmed by a great sense of invincibility during the trip and saw no boundaries or restraints. I have never felt such a feeling of happiness and acceptance on such a powerful level. No one was categorised or stereotyped, we were all accepted for whom we were and this was extremely refreshing. At such an impressionable age I have become more and more aware that my faith is tested and as I grow older I have come to learn that there are so many more occasions where it may faulter. However the wyd trip gave me the opportunity to strengthen and prepare my faith and I Know whole heartedly that this will stand to me in years to come. It is very clear now that the group is a very important aspect of pilgrimage. Eating sleeping and living together strengthened the group and this made the trip all the more fun and as we were told by the Priests the nights out were as much part of the pilgrimage as the prayer services. Of course none of this would have been possible without all the preparation and work that went on behind the scenes. The planning and organisation by Fr.Tod and the other Priests made sure that the jam packed and action filled days went smoothly. The trip was such a great success due to their work and dedication and for that I am extremely grateful. To sum it all up WYD was a trip of a lifetime…..friends for life, memories for life and lessons for life
World Youth Day 2008
Detailed Itinerary
Sunday July 6th – Wednesday July 23rd
Sun July 6th
10.30am                       Mass in Tuam Cathedral celebrated by Archbishop Neary followed by a quick cuppa (if we have time)
11.45am                       Depart Tuam for Dublin Airport
3pm                             Check in
5.35pm                        Flight:               BD130 Dublin to Heathrow
10.05pm                                              QF010 Heathrow to Singapore
Monday July 7th
9.25pm                        Flight:               QF052 Singapore to Brisbane
Tuesday July 8th
6.50am                         Arrive Brisbane. Transferred by Bus to Mooloolaba (Sun Coast)
Tuesday 8th – Thursday 10th
Stay at Mooloolaba Backpackers Resort to include Breakfast and dinner See: www.mooloolababackpackers.com/
Wednesday 9th July
9am                              Bus to Australia Zoo Tickets prepaid. (Return c 5pm)
Thursday 10th July
10am                            Transfer by bus to Australia Catholic University, Brisbane for Registration and Lunch
5pm                             Arrive at Parish of Southport to meet our Host families
Thursday 10th – Sunday 13th
Staying with host families in parish of Southport on Gold Coast. Stay to include breakfast and dinner.  See: www.wydbrisbane.org.au/asp/index.asp?pgid=11196
Friday 11th July
'A Call to Serve' – experiencing Parish life in Brisbane
Saturday 12th July
'Heart of the City' – Festival in the centre of Brisbane
Sunday 13th July
am.                               Farewell Ceremony
pm.                              Transfer to Brisbane Airport
5.45pm                        Flight:               QF547 Brisbane to Sydney
7.15pm                        Arrive in Sydney and transfer to Parish Accommodation (St Patricks Parish, Bondi)
Sunday 13th – Tuesday 22nd
WYD Sydney. Basic accommodation and includes most meals.
See: http://www.wyd2008.org/index.php/en/wyd08_events
Monday 14th
Registration and visit to Circular Quay and Sydney Harbour
Tuesday 15th
4.30pm                        Opening Ceremony, Barangaroo followed by Festival
Wednesday 16th
10am -1pm                  Catechesis sessions
2pm – 10pm                 Festival events
Thursday 17th
10am – 1pm                 Catechesis sessions
2pm -6pm                    Papal arrival into Sydney Harbour followed by celebrations at Barangaroo
Friday 18th
10am – 1pm                 Catechesis sessions
3pm – 6pm                   Re-enactment of Stations of the Cross: Circular Quay, Darling Harbour and Barangaroo.
Saturday 19th
Am                               Pilgrim walk from Sydney Harbour Bridge to Randwick Race Course, site of Papal Mass
7pm-9pm                     Vigil 'Under the Stars' with Pope Benedict XV1
Sunday 20th
10am                            Papal Mass followed by Festival
Monday 21st
Am/pm                         Free day for shopping, sightseeing etc
Tuesday 22nd
1pm                             Transfer to Airport
5pm                             Flight                QF001 Sydney to London Heathrow
Wednesday 23rd
10.05am                       Flight                BD123 Heathrow to Dublin
11.25am                       Arrive Dublin.
Bus transfer to Tuam (arriving c3pm)
Welcome!
Young people of Tuam….Welcome to our website!!
**********
If you have stumble upon this website you must have some interest in joining us in Sydney. Whether you're a mad enthusiast or just making tentative enquiries we hope this site can help.
******
The story so far –
In 2005 a group of young people from this diocese travelled to World Youth Day in Cologne. The group felt it was an inspirational experience and were keen to participate in the pilgrimage again. Developing on that spirit of enthusiasm we are forming a group to journey towards the next World Youth Day.
******
Links
http://www.wyd2008.org/index.php/en
http://en.wikipedia.org/wiki/WYD
http://www.vatican.va/holy_father/benedict_xvi/messages/youth/documents/hf_ben-xvi_mes_20070127_youth_en.html
******
Contact us
If you're still interested please contact us!
For more information – Fr. Tod Nolan (093 52284), email; wydtuam@eircom.net
For queries, comments or complaints about this site – ppmannion@gmail.com
******