HOMILY OF ARCHBISHOP MICHAEL NEARY ON THE OCCASION OF THE CROAGH PATRICK PILGRIMAGE 2007.
A visiting English travel writer once described the beauty of Croagh Patrick on discovering it for the first time as he drove between Ballina and Castlebar on a brisk February morning.  The quartzite stone seemed to reflect the majesty and holiness of the place.  Later in the year on the last Sunday of July he joined the pilgrims and found that the beauty from afar had become an energy-draining stiff climb on a misty mountain but he later wrote that he had found the power and presence of God which is reflected in every age from the ancient sites of pre-history to the great Cathedrals of today.  He discovered, above all, that there was no great rush here.  It wasn't the place for sprinters or power walkers "here", he wrote, "God slows down to our petty pace".  In an older Irish tradition this lack of hurry was dominant.  People paused and pondered before prayer. 
All of us have to slow down as we climb to the summit.  Now and again we stop to catch our breath, or perhaps, in the early light gaze on the beauty of God's creation as we catch sight of the islands out on Clew Bay.  This is one of those pilgrimages which take the ever demanding rush out of life.  The world in which we live has set an impossible pace.  We are rushed from infancy to adolescence and then through those special years to an ill-timed adulthood.  Then, as we grow older, we might be left to the one side as following generations may see us as a burden or a handicap to their progress and ambition.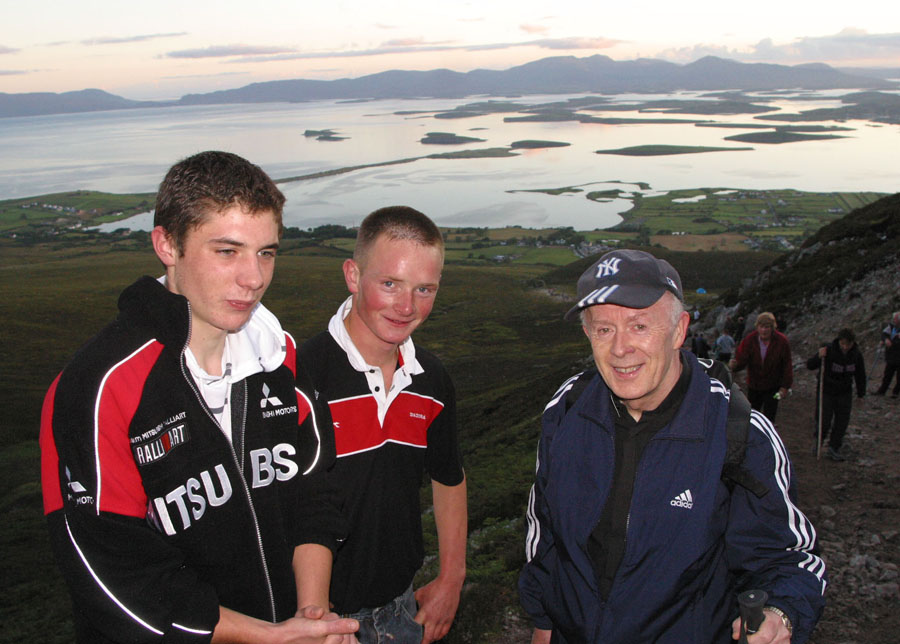 Perhaps, today, we might bring home a lesson from this old mountain of St. Patrick.  We might discover the need to reflect, to slow down the pace of life, to wonder at the beauty of the earth and to really appreciate the value of our friends.
We have rushed the earth in an age when the seasons are struggling for their own identity.  The lands are ravished for greed where even some crops are now genetically modified for quicker profit.  We have stripped the forests for paper and polluted the seas by our own waste.  One writer, Peter Van Passen, reminds us: "half of our misery and weakness derives from the fact that we have broken from the soil and that we have allowed the roots that bound us to the earth to rot.  We have become detached from the earth, we have abandoned her.  The man who abandons nature has begun to abandon himself".
We live in the age of the instant, where there is no joy in the anticipation and no time to value the achievement.  Hotels have already advertised the "sparkle they can put into Christmas".  We advertise for Christmas as children are returning to school after their summer holiday and they then draw our attention to summer breaks before Christmas night.  We have forgotten about the sacredness of now or, as some put it, "the sacrament of the present moment".  In our sense of this holy mountain we experience, at one time or another, the temptation to give up.  Feet are sore and blistered, breath comes in gasps, the rain leaves us wet and miserable and the journey back to rest, heat and refreshment is so tempting.  It is at times like this that we need the support and encouragement of our fellow strugglers on the wind-swept hillside.  Too many young people in their pilgrimage through life in our land have come to believe that giving up on life is more attractive than the living of it.  They too need the strength of all of us and the gift of our time when all around are caught in a rush.  Hooked on despair too many see youth to be an end and not the beginning of life's adventure and we may not take the time to see that point of pain that drives them to unnecessary death.
Perhaps our greatest fault lies in our robbing our children of their childhood. The English writer, Thomas Traherne, reminds us that God made children able to create worlds in their own minds which are more precious to Him than those which He created.  These are the precious irreplaceable years of play, discovery, wonder and imagination.  Too often now video games steal playtime away while imagination gives way to the special effects of the latest film offering and the unreal world of the soap opera gate crashes their innocent exploration of life.  The sense of style and fashion can push aside the mystery and beauty of their First Holy Communion day and, all too soon, they are dragged into adolescence before their primary school days have ended.  Sadly, even in our education system the joy of learning can be lost in extensive testing.
Today also, there is the perception of the child as consumer by the advertising agents where they are introduced to computer games and chat rooms designed to introduce them to more challenging and sophisticated levels where the young person is often conscripted into the hysteria of style wars and more frightening possibilities.  With these precious years of childhood rushed into adolescence comes the peer pressure to take up alcohol and more sinister levels of drug dependence.
One Buddhist writer sums it up eloquently; "our true home is the present moment. To live in the present moment is a miracle; the miracle is not to walk on water. The miracle is to walk on the green earth in the present moment".  While a Scottish writer reminds us "Christ was never in a hurry.  There was no rushing forward, no anticipating, no fretting over what might be.  Every day's duties were done as each day brought them and the rest were left to God".
As we leave this mountain and find in it a symbol of our own lives and struggles in its call for courage, perseverance and in its joy, sorrow and fulfilment, we might remember those today who struggle with steeper slopes of hunger, exile, famine and separation from their own native lands.  We will pray too for those who scale the dizzy heights in search for peace when that summit seems so distant.
As you go back to your homes, your families and your children, I leave you with the blessing of St. Colmcille: "May the Lord be a sure path beneath your feet, a bright light before you, a kindly shepherd behind you this day, this night and always".